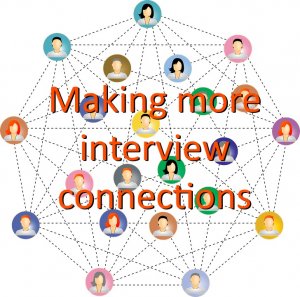 Getting that first podcast interview is crucial – and not always easy. The good thing is that once you've put that first interview behind you, you're on your way to more. The reason is simple: one way to land more podcast interviews is to make great interview connections with podcast hosts!
The podcast world is a small, tight-knit community. If you're making a good impression, you're building a reputation. Making those first connections is important. Here are a few examples of making great interview connections in your network can lead to more interviews, helping you to meet those business goals.
The host who knows other hosts
"That was great. I have a friend with a show I think you'd be perfect for – I'll introduce you!"
Many podcast hosts know other hosts, and "run in the same circles." They may not have a secret meeting every week (or do they?), but they do connect with each other. Whether it's through live events where they meet for dinner and drinks, or it's through professional groups, podcast hosts seem to know each other; most of them also love to see their friends succeed.
From the show prep to the interview to the follow through, making great connections in your interviews means being professional and kind. Showing up prepared, engaging with the host and bringing great value to their audience, plus following up with a thank you and promotion of the show can all lead to a host saying "You'd be perfect for my friend's podcast."
The podcasters who listen to other shows
"I heard you on another show I listen to – would you be willing to go on my show?"
When you love the craft, you often steep yourself in the world. A lot of podcast hosts listen to other shows. When your interview connection is gold in one show and they hear it, they may want to invite you onto their podcast. After all, if you're bringing value to one audience, you'll bring it to their listeners.
The more podcast interview marketing you do, the more interview connections you make and more other hosts will hear you. Even their listeners may hear you and send them a message about you. Building your brand and driving awareness takes time, and it takes effort. Making a great connections with hosts and audiences helps move that journey forward.
The podcast show producer who produces other shows
"It was a pleasure working with you – you were great. I produce several shows and I think you'd be great on this other show."
Some podcast producers work on multiple shows. As they look to book guests on their other projects, and you've made a positive connection, you will be much more apt to receive invitations on their other shows.
A producer of a marketing-focused podcast may also produce a sales-focused podcast, or maybe they have a side project that talks about faith in business; when a producer likes you and sees a crossover for you to another show, your network becomes more powerful. When you build your network through podcasts and a valuable reputation, your business will flourish.
The podcast producer who searches for great guests
"I was searching for guests for the show I produce, and your name kept coming up. I have to have you on this show!"
A big part of podcast interview marketing is the inbound marketing strategy involved. Links to your website from the shows you interview on help drive your SEO strategy, bringing more people to your website through organic search. For those podcast producers looking for great guests, the more interviews you're on that connect with the host and audience, the more opportunity for your website to receive links and rise in the ranks of search.
Show producers often work to find guests, so as they search for the kinds of guests they want, and you fit their needs, the better of your marketing strategy will be. Make those great connections for SEO, and as they listen to the shows you're on, they'll hear the value you bring.
Social media and the power of networking
"I saw someone share a podcast you were on and I loved it. I think it was in a LinkedIn group or Facebook group… wherever it was, I thought you'd be a great fit for my show."
Social media promotion is important for many reasons. Besides promoting the show as a thank you to the host and a chance to build their audience and yours, it also means connecting with other like-minded individuals. Facebook and LinkedIn groups are often made up of similar people – or avatars. This means the great interview you had on one show that you or the host shares in social media could land you another interview and more. Interview connections made through great appearances an help build your brand.
When you're ready to start the journey and get on your first podcast, download our "9 secrets to getting booked on your first podcast interview" below. Happy podcasting!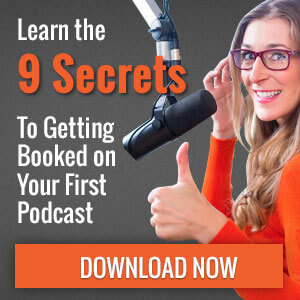 image source: connections