The most successful entrepreneurs are always improving, always learning. One way to learn constantly is to learn from others in your sphere. Podcasts can help your learning for a couple of reasons. First, you can listen to shows while multitasking – like as you run or while you're traveling. Podcasts take listening, not watching or reading, so you can listen on the go. Also, podcast interviews often dive deep into specific subjects – as niche as you want to be! So if you're sold, you'll want to find the best podcasts for entrepreneurs.
Whether you're a seasoned veteran or serial entrepreneur, or you're starting your first business, many of the following podcasts have something for everyone. From Gary Vaynerchuck to Chris Brogan … from Christopher Lochhead to Zig Ziglar's legacy … there's something for every flavor of entrepreneur. Whether it's inspiration, education, entertainment or something else, you'll find what you need in this list.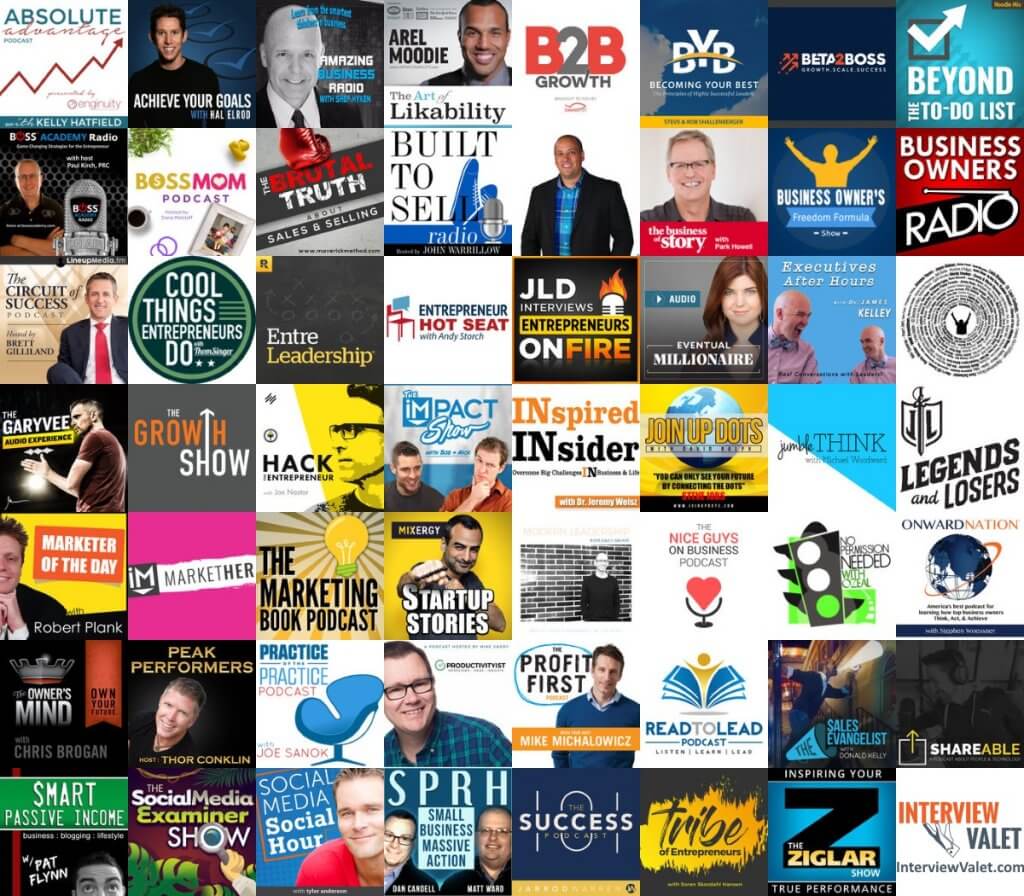 Sit back and enjoy our picks (educational, inspirational and more) – and let us know who else should be on this list of best podcasts for entrepreneurs!
(NOTE: These shows are listed in alphabetical order, and descriptions mostly come from the podcast site or iTunes page.)
Absolute Advantage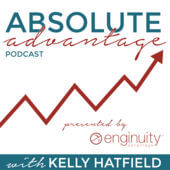 The Absolute Advantage Podcast is about learning from some of the world's most successful entrepreneurs, leaders, and achievers at the top of their game. When chasing your dreams, a lot of times there isn't a need to reinvent the wheel. Instead, shorten your path to success by learning from the stories, strategies and concepts shared by our guests. Then shorten it even further by learning about amazing resources (books, webinars, tools, software, events, coaching, etc.) that should be on your radar. You are not alone in the challenges you face! It's my mission to help you walk away with at least one idea you can apply each episode and to offer content that inspires, encourages and helps you grow and progress QUICKLY both professionally and personally.
Achieve Your Goals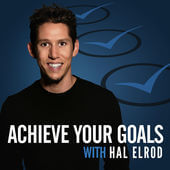 Achieve Your Goals with Hal Elrod is a weekly podcast dedicated to empowering and equipping you with practical advice and strategies to achieve your goals and dreams. If you are looking for help with achieving your goals in any (or EVERY) area of your life, Hal will give you the inspiration, motivation, and action plan to take yourself and your life to the next level. Subscribe to the podcast and get a new episode every Wednesday.
Amazing Business Radio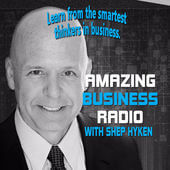 Amazing Business Radio features customer service expert and New York Times bestselling author Shep Hyken who interviews leading business professionals and other customer experience experts. Each guest shares tips and insights on how to succeed in business. The bright business minds featured on Amazing Business Radio come from all over the world and include viral video stars, corporate CEOs, bestselling authors, thought leaders, and many other inspiring personalities. The show covers a variety of topics related to customer service and customer experience and will provide answers that listeners need to know in order to take their success to the next level. Amazing Business Radio airs every week on, itunes, Soundcloud, and other platforms and channels.
Art of Likability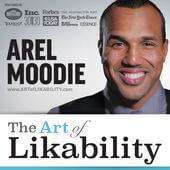 With the Art of Likability Podcast, listeners learn strategies to increase likability, build deeper relationships, become more powerful in your communication while being authentic as you create a new you that accomplishes any goal because you now can harness the power of the people around you.
B2B Growth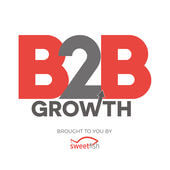 B2B Growth is a daily podcast dedicated to helping B2B marketing leaders achieve explosive growth. Each episode features an interview with a B2B marketing executive or thought leader, discussing topics like: B2B marketing strategy, account-based marketing (ABM), content marketing, marketing technology (MarTech), B2B strategic partnerships, aligning marketing with sales, social media, content creation and promotion, leadership, buyer personas, agile marketing, and more.
Becoming Your Best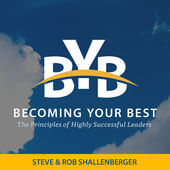 The Becoming Your Best Podcast: How do you feel about your personal and professional life? Many people feel like they or their teams are stuck in a mediocrity trap. The question is how do you take where you are today and make it better and overcome seemingly insurmountable obstacles to your success? Not only that, but how can you inspire your children or employees to do the same and become their best? In the Becoming Your Best podcast, Steve and Rob Shallenberger will help you uncover the principles of highly successful leaders. This podcast will give you the tools and processes to help you become the person, parent, partner, or leader that you've dreamed of becoming.
This podcast also gives leaders and their teams the tools and know-how to break down performance barriers, achieve huge results, and be the disruptive company in their industry. When collectively applied, our signature 12 principles will have a profound impact on the revenue, culture, innovation and productivity of any organization in any industry. You will discover how to make communication easier and clearer, live in greater peace and balance, manage your time effectively, more persuasively lead others with an inspiring vision, and how to embrace change—not fear it. As the global authority on leadership training,
Becoming Your Best teaches people how to follow their own path to success using the 12 Principles discovered by founder Steven Shallenberger in his 40+ years of research as a business leader. Countless key executives, organizations, athletes, teachers, and individuals worldwide have come to rely on these principles and processes. Becoming Your Best is packed with advice, tools, and examples for turning your thoughts into action, motivating yourself and those around you, inspiring teams to solve problems creatively, and building the life you've always dreamed of.
Beta2Boss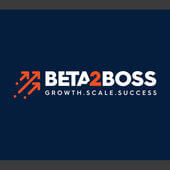 The Beta2Boss Podcast is conversations with the top 2% of Entrepreneurs and business leaders who are sharing their insights to help you become more successful. For more, visit beta2boss.com
Beyond the To-Do List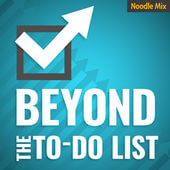 Learn how to choose the right projects, tasks, and goals in work and life. Go Beyond the To-Do List! This show will help you do that with conversations with the people behind the productivity. We talk with people on all aspects of productivity, including getting the right work done, getting good work done, and the true end goal of productivity: living a meaningful life. Erik Fisher talks with real people who practically implement productivity strategies in their professional and personal lives. You'll be refreshed and inspired after hearing how others fail and succeed at daily productivity and be inspired and instructed on how to move forward yourself.
BOSS Academy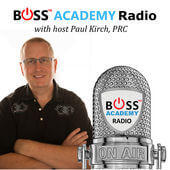 BOSS Academy Radio is here to give you the tips, tricks, tools and strategies to grow your business. You don't have to go at it alone. Let us show you the way, as we bring amazing guest content, along with an expert network and years of real-life sales and business experience from our host, Paul Kirch. BOSS stands for business ownership success strategies, and that's exactly what we're bringing you. Let us be the last boss you'll ever need. Tune in and turn on your business and learn to perform like a BOSS!
Boss Mom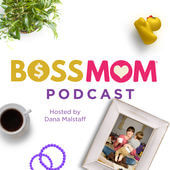 Welcome to the Boss Mom Podcast, where women in all stages of raising their business and family come to get tools, tips and support to help make their Boss Mom world just a little bit easier. WIth host Dana Malstaff
Brutal Truth About Sales and Selling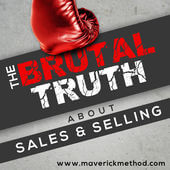 The Brutal Truth About Sales and Selling Podcast: No BS Allowed – Are you sick of empty suits telling you just work harder? – Learn about The Maverick Selling Method, models the world's best salespeople and what they do differently. If you are in sales and have a passion for selling you will like this podcast. The focus is on b2b sales and selling. If are selling or in sales this podcast is for you.
Some of the topics I cover are cold calling, spin selling, challenger sale, solution selling, advanced selling skills. strategic selling, LinkedIn, SAAS, sales leadership, sales management, social media, B2B marketing, maverick selling method and how sales has changed. If you are in sales and like selling this podcast is for you. I have been selling for over 25 years and today I help companies increase revenue and reduce sales cycles by understanding how their customers make purchase decisions. I avoid the old-school tips and trick approach to sales and rather create sales and buying pattern map which enables salespeople to understand the selling and buying pattern. My clients are rewarded with over 300% increase in new business and a 30% reduction in the time it takes to close business. My approach is direct and without the fluff that other sales training companies take so if you want the brutal truth about sales and selling you have found the right place.
If you like Tim Ferriss, Bill Burr, Dave Ramsey, Serial, Reply All, The Art of Charm, HBR, WTF, Startup, Motley Fool, Money, Gimlet, TEDTalk, NPR, EOFIRE, The TOP, Ziglar, Salesman red, Hustler, GaryVEE you will like this.
Built to Sell Radio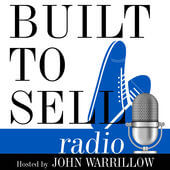 Built to Sell Radio is a weekly podcast for business owners interested in selling a business. Each week, we ask an entrepreneur who has recently sold a business why they decided to sell their business, what they did right and what mistakes they made through the process of exiting their business. Built to Sell Radio is the ultimate insider's guide to approaching the most important financial transaction of your life.
Business Leadership Series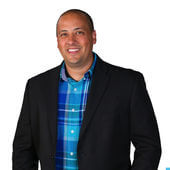 The Business Leadership Series Podcast's audience is comprised of business owners, leaders, and entrepreneurs who desire to learn from our guests' knowledge, advice, and experience for personal and professional growth. This content series is a free subscription shared through written, audio, and video interviews. Learn more at www.BusinessLeadershipSeries.com
Business of Story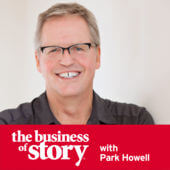 Park Howell promises to reignite within you the one true superpower we all possess – storytelling – in the Business of Story Podcast. Learn from internationally acclaimed story artists, content strategists, and brand raconteurs who will help you craft and tell compelling stories that sell. This is the "How To" podcast for story marketing. Each episode delivers at least one actionable tip that will help you connect with your customers, move them to action, and start creating epic growth for your enterprise and your people. Story on!
Business Owner's Freedom Formula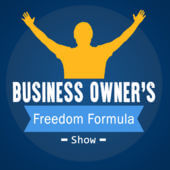 In the Business Owner's Freedom Formula Podcast, Paul Maskill chats with inspiring entrepreneurs and digs into their highs, lows and everything in between of their business building journey to learn about how they've been able to achieve ultimate freedom. It's all about switching from working IN your business to working ON your business…so you can work less, make more and achieve ultimate freedom. Nicole Holland, Aaron Walker, Courtney Foster-Donahue and Tim Sanders are just a few of the great guests that Paul has had the opportunity to interview, learn from and share their story with business owners all around the world. This show was created for YOU, the small business owner looking to finally break free from your business so you can achieve the freedom that you sought when starting your business.. If you're looking for straight-to-the point, no fluff interviews filled with actionable advice then this show is for you. Each episode digs into the entrepreneurial journey of the guest while focusing on how they've been able to put systems, processes and people in place so their business can thrive without them. Capping it off, Paul breaks out the Rapid Recommendations where we find out the Top 6 Recommendations to get you one step closer to ultimate freedom.
Business Owners Radio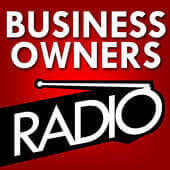 "The show that helps your business grow." Business Owners Radio is where established business owners get the latest strategies, insights, and practices to build a sustainably profitable business. Every Monday morning, Co-hosts Craig Moen and Shye Gilad offer entrepreneurs the best "ROL" (Return on Listening) on the internet, with episodes featuring dynamic interviews with business experts and strategists, in-depth reviews of important business trends, and innovative technology, frameworks, and tools you can use right now to run your business better. Find out more at BusinessOwnersRadio.com.
Circuit of Success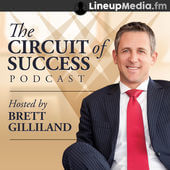 The Circuit of Success Podcast hosted by Brett Gilliland was designed to give listeners a portal into the lives of success-driven people who have shown perseverance, courage, passion, and grit. We want to help our listeners live the life they have always dreamed of living. People can achieve anything that they commit to with passion. We want to help people believe in what they feel is "impossible." Together, we will learn from some of the world's most interesting people in the realms of business, medicine, education, and sports, along with bestselling authors and motivational speakers. They will share their wisdom on what it takes for them to become their best. Our primary objective is to ensure that The Circuit of Success inspires listeners you to make daily choices that will transform your life and help you rise to altitudes that you have always dreamed of achieving. We firmly believe that, if your mind can see it, then you can certainly achieve it. We want you to see the choices, the rituals, the obsessions, the no-miss items in a day that our guests choose that make them great. We will talk a lot about success, and to clarify for our listeners…YOU define your success. Not us, not our guests, YOU! Define what you want success to look like and that is exactly what will happen – when you commit to it! Presented by LineupMedia.fm.
Cool Things Entrepreneurs Do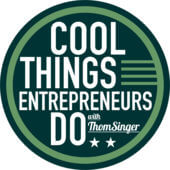 Cool Things Entrepreneurs Do is a business-focused podcast for people who seek success as an entrepreneur or solopreneur. If you desire motivation, ideas, inspiration, and the chance to learn from people who are living their dreams, then "Cool Things Entrepreneurs Do" should be added to your subscribed "must hear" podcasts. This show was created to help people get "unstuck" in their careers. Each episode brings you the successful stories of entrepreneurship. Goal setting, mentorship, mastermind groups, mindset, marketing, sales, millionaires, career path, peak performance, thinking bigger, networking, enthusiasm, re-invention, leveling up, and financial planning are just some of the topics that are covered each week. Thom Singer is the author of 11 books and has been the featured speaker at over 500 business and association events. Join him on this journey and become part of the "Cool Things" community.
EntreLeadership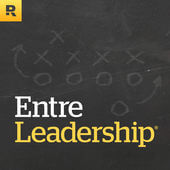 Hosted by Ken Coleman, the EntreLeadership Podcast features lively discussions and tips on leadership and business by some of the top minds in the business, like Mark Cuban, Seth Godin, Jim Collins and Simon Sinek.
Entrepreneur Hot Seat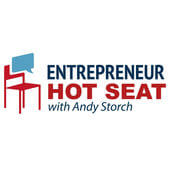 The Entrepreneur Hot Seat is a podcast for entrepreneurs and aspiring entrepreneurs to hear stories from other entrepreneurs, the different types of businesses out there and the challenges other entrepreneurs are facing and what they are doing to overcome those challenges. In each episode, I will interview a different entrepreneur (some very successful, some just starting out) to learn about their business, their vision and goals as well as what they are struggling with and try to pull some lessons from the conversation.
Entrepreneurs on Fire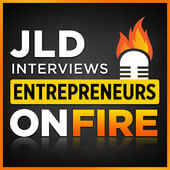 Awarded 'Best of iTunes', Entrepreneurs On Fire (EOFire) is a 7-day a week Business Podcast where John Lee Dumas chats with todays most successful Entrepreneurs. Pat Flynn, Seth Godin, Tim Ferriss, Tony Robbins and Gary Vaynerchuk are just 5 of the over 1800 interviews to date. EOFire was created for YOU, the Entrepreneur, Side-Preneur, Solo-Preneur and Small Business Owner. If you're looking for ACTIONABLE advice during your daily commute, workout, or 'me' time, JLD brings the HEAT. Each episode details the journey of a successful Entrepreneur who shares their WORST Entrepreneurial moment and lessons learned, an AH-HA moment and how they turned that idea into success, and much more. Each episode ends with THE LIGHTNING ROUND where JLD extracts golden nuggets, Internet resources and action steps for you, FIRE NATION!
Eventual Millionaire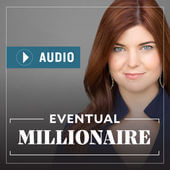 Eventual Millionaire Podcast: "Real Talk with Real Millionaires." Join business coach Jaime Masters as she interviews millionaire entrepreneurs to learn their failures, advice, tips and stories.
Executives After Hours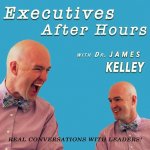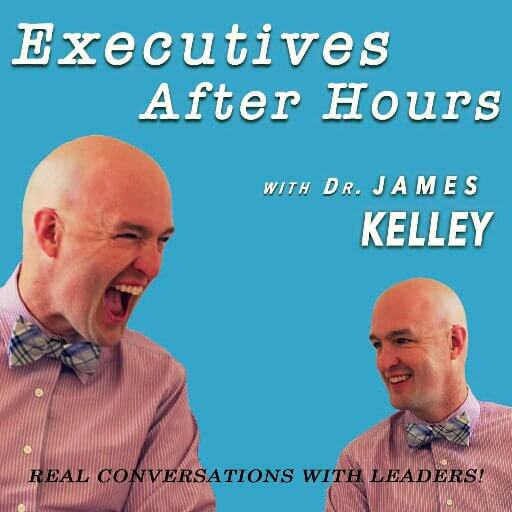 Executive After Hours: Every CEO, CFO, and senior leader IS a unique story, and these stories are shared on Executives After Hours. Unlike many other podcasts that focus on organizational tactics or market trends, these podcasts aim to share authentic conversations with real leaders. We chat about their personal journeys, rather than their current positions. So, sit down and join us on these hour-long conversations where we talk about successes and failures, from childhood to marriage and beyond. Across these interviews, you learn about common traits of successful executives as well as what animal best represents their management styles, what they want their gravestones to say, and how they define happiness.
Front Row Factor: Transform Your Life with the Art of Moment Making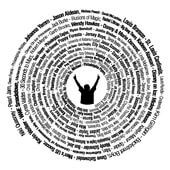 One of iTunes top rated podcasts, the Front Row Factor show is filled with incredible stories that will motivate and inspire you. It's fun — we laugh. It's deep — we feel. It's insightful — we learn. It's authentic — we share. This show is for people who have an insatiable appetite for learning, growing and making a difference in the world. I'm Jon, your host. In 2005, I helped start a charity called Front Row Foundation, which helps kids and adults with life threatening illnesses to have a front row experience at the live event of their dreams. We then provide the tools to live EVERYDAY in the front row, which is one of the reasons we host this show. We believe… – You can learn a lot about living life from people fighting for it – Your ability to make the most of little moments can lead to larger movements in your life and for those you impact. On this show, each week, you'll learn with and from authors, elite athletes, filmmakers, business owners and anyone else choosing to live big and give big. I'm on a mission to show you how to Live Life In The Front Row™ through the transformative art of moment making. I'm a husband, father of two energetic boys, and social entrepreneur. I'm proud of our #1 bestselling book The Front Row Factor: Transform Your Life with The Art of Moment Making. The book is a collection of inspiring stories, compelling science, and life strategies that challenge you to explore your values, establish priorities and reconnect to a higher purpose and deeper meaning within your life. Let's do this!
GaryVee Audio Experience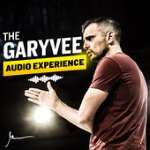 Welcome to The Garyvee Audio Experience, hosted by entrepreneur, CEO, investor, vlogger, and public speaker Gary Vaynerchuk. On this podcast you'll find a mix of my #AskGaryVee show episodes, keynote speeches on marketing and business, segments from my DAILYVEE video series, interviews and fireside chats I've given, as well as new and current thoughts I record originally for this audio experience!
Growth Show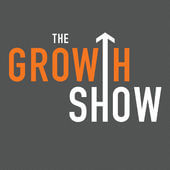 The Growth Show is a podcast for executives and entrepreneurs that shares stories on what it's really like to grow a business, a movement, an idea, or a team. Each week, we sit down with someone who has achieved remarkable growth and unpack how they did it. Get exclusive updates on the podcast, a sneak peek at upcoming guests and more at www.thegrowthshow.com, and if you're listening on iTunes, please make sure to subscribe.
Hack the Entrepreneur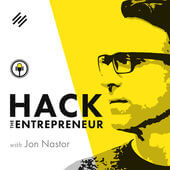 Hack the Entrepreneur is a podcast for entrepreneurs looking to develop their success mindset. People who are looking for their next business idea, getting started online, and how to start a business. We understand that starting a business and doing work that matters is not always easy, but it is worth it. From solo entrepreneurs to startup founders, digital nomads to Amazon FBA, we discuss what it takes to be successful with building a SaaS company, affiliate marketing, passive income ideas, coaching and consulting, content marketing, and starting a small business. You will hear from experts such as Gary Vaynerchuk, Seth Godin, James Altucher, Pat Flynn, John Lee Dumas, Brian Tracy, and Jordan Harbinger. Hack the Entrepreneur can be seen on Inc., Copyblogger, Entrepreneur, Foundr, and SiriusXM.
Impact Show with Bob & Nick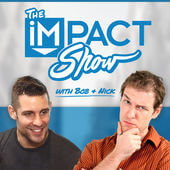 Hosted by IMPACT's CEO Bob Ruffolo & Inbound Marketing Strategist Nick Sal, the IMPACT Show explores a unique theme or concern each week that's plaguing growth leaders. In addition to the big theme, Bob and Nick will keep their fingers on the pulse of marketing, sales, and business advancements, then in 5 minutes or less, report exactly what you need to know.
INspired INsider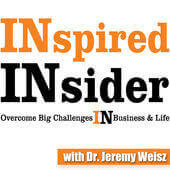 The INspiredINsider.com Show with Dr. Jeremy Weisz features interviews with successful and inspirational entrepreneurs, authors, and visionary leaders. The interviews reveal deeply personal stories and explore the tough journey of Big Challenges or Big Mistakes that the inspirational leaders overcame to achieve success. Here are some inspiring stories you will find: – Jonny Imerman with Imerman Angels–Listen to how one guest fought and beat cancer. He then started an organization to match others to help battle cancer by providing one on one mentorship with someone who has already battled and beat that same cancer. It is one of the largest organizations of its kind in the world. –Jordan Guernsey Founder of MoldingBox–How did the CEO and founder of a multimillion dollar company handle both personally and professionally being diagnosed with Stage 3 Melanoma. He said it was the best thing that ever happened to him. There are also featured interviews with the founders of SkyMall, Wistia, Noah's Bagels (Einsteins) and many more! Thank you for listening from your host, Dr. Jeremy Weisz.
Join Up Dots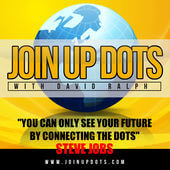 The Join Up dots Podcast: Are you an entrepreneur who needs the right mindset, motivation and confidence. Hell we all need confidence as its the key to everything in life, and very few entrepreneurs, solopreneurs or just people who are rocking and rolling have this naturally, even though it may seem like a god given gift. Whether you want an amazing online income, entrepreneur success, more money than you could dream off, freedom, love, sex, or even a huge promotion at work confidence will make it happen. And we will show you how to get it – BIGTIME! Having the confidence to go after it, and the mindset to make it happen is demonstrated in every episode of the Steve Jobs inspired Join Up Dots through the startup stories, struggles, honest conversations and training and coaching. Ready to rock your life?
jumbleTHINK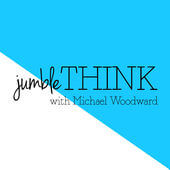 jumbleThink is a podcast focused on sharing the stories of dreamers, makers, innovators, and influencers from various segments of life. Along the way we will share tips that you can use in your pursuit to chase your big idea or dream. Our guests include artists, authors, business owners and executives, film makers, artisans, builders, politicians and other world changers. We set out to learn how their big idea started and what keeps them chasing their dreams. Our host, Michael Woodward, has worked with hundreds of businesses to help them refine their ideas and create their big dream.
Legends and Losers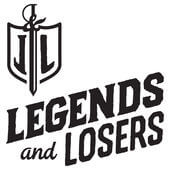 The Legends and Losers Podcast: What is 4-Star General Stanley McChrystal's biggest regret? How did Ann Muira-Ko go from photo copier to one of the "most powerful women in startups"? Why do Navy Seals meditate? And how angel investor Jason Calacanis turned $100K into $100Million. On Legends and Losers amazing people open up about what they learned from losing to become legendary. Eavesdrop on daring dialogues with entrepreneurs, technology leaders, authors, Superior Court judges, Super Bowl champions, terrorist negotiators and recovering alcoholics that are shaping our world. This show will spark your spirit, stoke your perseverance, make you love your failures, and forge your inner legend all while keeping you laughing. The salty language and whiskey-soaked mind of our host, Christopher Lochhead, really ties this "oddcast" together.
Marketer of the Day with Robert Plank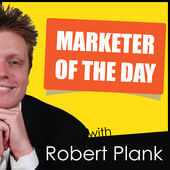 Marketer of the Day: Generate passive income and earn a living from home using internet marketing, membership sites, webinars, email marketing, podcasting, and more.
MarketHER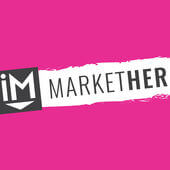 From balancing a career and family to overcoming the dreaded imposter syndrome, the hosts of the MarketHER Podcast have seen it all. Through our shared experiences delivered via our show (at least for the next 12 weeks), we tackle how women (including ourselves) can be more confident in our careers and learn how to be comfortable with the chaos of juggling it all, whatever that "all" looks like. Grab your friends, and join us each week!
Marketing Book Podcast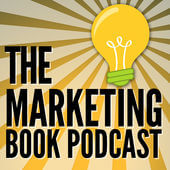 The Marketing Book Podcast helps you discover new ideas about what's working in the quickly-changing field of modern marketing. Each weekly episode interviews authors to give you practical marketing insights, tips, and tactics to help you become a smarter, more successful marketer. The host is Douglas Burdett, a marketing agency principal, former artillery officer, Madison Avenue ad man, and stand-up comedian.
Mixergy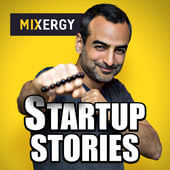 In the Mixergy Podcast, "Learn from Proven Entrepreneurs." In over 1,000 interviews, Andrew Warner asks uncomfortable questions to dig deep into the success and failures of the most successful business founders and thought leaders. The ideas and stories are so powerful that hearing them will change you.. If you are an ambitious entrepreneur crafting your next upstart or startup, there is no greater "street smarts" education than Mixergy. Don't miss out! 1) Subscribe to this podcast. 2) Turn on automatic downloads. 3) Enjoy every new interview for FREE. 4) Go to http://MixergyPremium.com and unlock the full back catalog of audio & video interviews, PLUS over 200 cheatsheets AND over 200 exclusive courses taught by real experts on topics like "Mobile App Design," "Preselling," "How to have a profitable launch," "Affiliate Marketing," "How to Raise $1 Million from Investors." Sound good? "In my 20s, with no outside funding, I co-founded a business that reached $30+ million in annual sales. Mixergy is the source I wish I had." – Andrew Warner, Founder of Mixergy.
Modern Leadership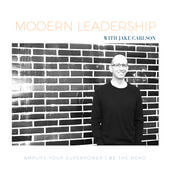 The Modern Leadership Podcast: The premiere podcast for today's leaders. Are you ready to amplify your leadership superpower? Each of us has a leadership superpower that makes us great. The five basic categories are accountability, confidence, problem solving, adaptability and enthusiasm. They give us an advantage at work and in our careers. Every week we amplify those superpowers through stories of success and struggle including interviews with industry experts; those who have walked the walk and now assist on our journey.
Guests include John Lee Dumas of eofire, Aaron Walker of View From the Top and Matt Moniz professional mountaineer conquering mountains across the globe. If you love quotes, book deep dives, motivation and leadership principles for the modern workforce you have found the right podcast. I started this podcast because the old style of leadership isn't working. The workforce has evolved because of technology and globalization of talent. As leaders, if we don't adjust we will lose our followers. We will not reach our goals and we will not succeed. In short we will fall behind the competition.
The Modern Leadership Podcast is part of JakeACarlson.com where you can take a free assessment to determine your leadership superpower and get ways to build your team through amplifying your skills. Your leadership style matters in work and in life – you make a HUGE impact. You CAN lead with an open mind and be approachable. You ARE ready to learn modern problem-solving skills. And, you CAN gain the confidence to reach your leadership potential. Find out more at jakeacarlson.com
Nice Guys on Business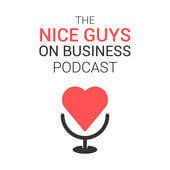 At first listen, it may not sound like they are talking business, but there is no denying the Nice Guys on Business (Doug Sandler and Strickland Bonner) know their audience. If you are an entrepreneur and tired of hearing the same old rah rah static babble on all the other business podcasts out there, it's time for a breath of fresh air. Listen in, subscribe, or join the Nice Guy Community and become a Funk'nFan of the show. Relationships, honesty, trust and integrity build business today and that's what the Nice Guys are all about. Top industry experts interviewed, behind the scenes. Sometimes raw, sometimes explicit, always fun and informative. Looking for canned questions, short format and conversations in a box….this podcast ain't for you.acquisition and retention, setting up systems, and so much more. If you are an entrepreneur, opening a small business, or already running a small business, The Nice Guys on Business can help you do better. You don't have to be a jerk to run a successful business. Let The Nice Guys teach you how.
No Permission Needed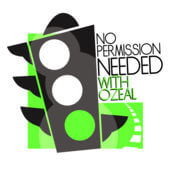 The No Permission Needed podcast is for early-stage entrepreneurs, creatives and side hustlers looking to build a business online. The host of the podcast, Ozeal, interviews some of the most remarkable minds in business and self-development. These candid, casual conversations dig deep into the topics of modern-day marketing, entrepreneurship, and personal growth. The goal for the podcast is to inspire, educate, and give people the confidence to say, 'I can do this….. with no permission needed."
Onward Nation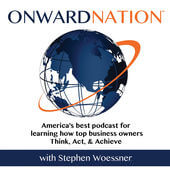 Onward Nation is America's best podcast for learning how today's top business owners. "Think, Act, & Achieve." Onward Nation is a five-day-a-week podcast hosted by Stephen Woessner, CEO of Predictive ROI. Business owners share the most influential lessons learned throughout their careers, including insights into their daily habits, their most vital priorities that have contributed to their business and personal success, and the most challenging time or situation that could have devastated or even ruined their businesses or careers. Business owners share their "recipes for success" including those systems they wish they had put into practice inside their business when first starting out. Each episode concludes with guests sharing two or three practical and tactical strategies they would recommend to brand new business owners in order to best ensure success in their new business and careers. Onward Nation provides business owners with the strategies and tactical step-by-step "recipe" that will help anyone make their business more systematic, predictable, measurable, and repeatable.
Owner's Mind with Chris Brogan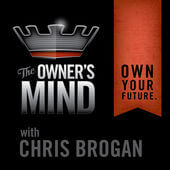 With the Owner's Mind Podcast, grow your business by improving your capabilities and connections. Learn from business pros and owners just like you. Hosted by Chris Brogan and the rest of Owner Magazine's staff.
Peak Performers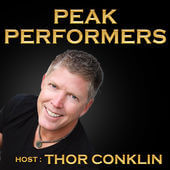 The Peak Performers Podcast: #1 Podcast on how to get things done. Learn from Peak Performers in all area's of life and Business. Do you know what to do but can't figure out why you are not executing what you already know? If so, this Podcast will give you the tools, strategies and psychology to not only break through the choke points but to truly become a Peak Performer. While reaching new levels of productivity and achievement. Thor will be sharing his tools and strategies as well as interviewing inspiring Peak Performers that are Entrepreneurs, Professional Athletes, Business leaders, Military, Technology guru's, Health and Fitness masters, Relationships Experts as well as Music & Entertainment superstars. Mission and Purpose – To engage, educate, entertain and inspire listeners to excel in any area of life through mastering the science of execution and Peak Performance. You will learn the necessary road map, strategies, tools and psychology to win this game.
Practice of the Practice Podcast: Small Business Growth

In Practice of Practice the Practice Podcast, Joe Sanok from the www.PracticeofthePractice.com blog covers everything it takes to make your service-based private practice more awesome. It's what you wish you had learned in graduate school. Learn killer ways to grow your referrals, save tons of money, and have some fun along the way. Joe has been featured on the Huffington Post, Yahoo Health, ZynnyMe, PsychCentral, and Sirus Radio. Joe has an extensive background in several clinical settings including foster care, residential, home-based, college counseling, and private practice. As the owner of Mental Wellness Counseling in Traverse City, MI he has grown his practice and taught others to do the same. As an expert in the field of growing counseling private practices, Joe exposes all he knows to help you with marketing, branding, consulting, and a deeper level of awesomeness. Joe knows that we've all been there, we dream of our small business taking off and we know that it should…but it doesn't. We want more referrals and the independence that comes from a small business. Through marketing, website developments, and other business-focused tips, Joe helps you to grow. There are simple changes that you can make that will ensure your grow as a professional, expert and as a small business owner. Joe engages and encourages listeners through real-life examples of failure and success. These discussions are for the 21st century counselor who wants to be on the edge of technology, marketing, and expanding their private practice or small business! Plus, there is super sweet music throughout the podcast. http://www.practiceofthepractice.com
Productivityist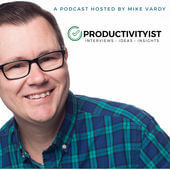 Hosted by productivity strategist Mike Vardy, The Productivityist Podcast is a weekly show that discusses tips, tools, tactics, and tricks that are designed to help you take your productivity, time management, goals, to do lists, habits, and workflow to new heights – both at work and at home. If you're looking to focus your efforts on getting the right things done and start living the good life, then this weekly conversational podcast – crafted in the tradition of Slate's Working, Back to Work, and HBR IdeaCast – is for you.
Profit First Podcast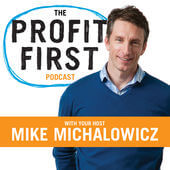 The Profit First Podcast is a show for entrepreneurs who want to increase their profits. And since when did talking about money need to be boring?! The Profit First Podcast gets serious about money by having the most fun possible.
Read to Lead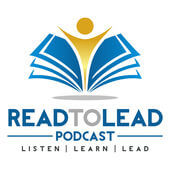 The Read to Lead Podcast: If you believe as I do, that intentional and consistent reading is key to success in business and in life, then this is your podcast. My goal each week is to bring you key thoughts and insights from my conversations with those I consider to be among today's brightest minds: our generation's non-fiction authors. We discuss their latest book, as well as their unique perspectives on Leadership, Business, Personal Development, Marketing, Career, and Entrepreneurship. If you love reading, or desire to do more of it, then consider this podcast your audio Cliff's Notes. The Read to Lead Podcast is a three-time Best Business Podcast nominee.
Sales Evangelist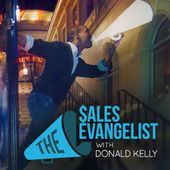 The Sales Evangelist Podcast: Just like most of you, I am a real life B2B sales professional hustling in the world of software sales. If you were like me, you had no clue how to really sell when you started in sales. Over the years I've received training/coaching from some of the industry's leading experts. I applied what I was learning and started seeing a significant difference in my performance and income. I started doing "BIG THINGS"! I personally feel that when you find something of value you should share it! That's why I love sales so much. I became very passionate and started "evangelizing" about sales. A good buddy of mine, Jared Easley, then dubbed me "The Sales Evangelist". He recommended that I further my reach by sharing sales tips to others through the medium of a podcast. Today I interview some of the best sales, business and marketing experts. They provide invaluable training of how you can take your career, business and income to a top producer's status. I know you will enjoy it. Welcome to The Sales Evangelist!
Shareable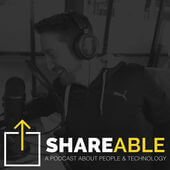 Shareable is a podcast recorded at the intersection of people and technology. We explore the pivotal moments in people's lives where a person or technology had a profound impact on them, forever shifting the direction of their career and life.
Smart Passive Income Online Business and Blogging Podcast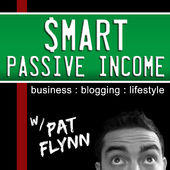 Pat Flynn from The Smart Passive Income Blog reveals all of his online business and blogging strategies, income sources and killer marketing tips and tricks so you can be ahead of the curve with your online business or blog. Discover how you can create multiple passive income streams that work for you so that you can have the time and freedom to do what you love, whether it's traveling the world, or just living comfortably at home. Although Pat confesses he is not a millionaire, he's been supporting his family 100% with passive income generated online, easily earning a six-figure salary while working only a few hours a week. Automation, outsourcing, crowdsourcing, search engine optimization, building authority and trust, niche sites, social media, Facebook, Twitter, YouTube, Podcasting, eBooks, online courses, affiliate marketing, getting things done and everything that works (and doesn't work) to help you better understand how to crush it with your online business.
Social Media Examiner Show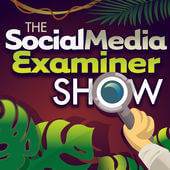 Discover quick tips for marketing your business with the Social Media Examiner Podcast. Consume snackable social media content each day. The result: this daily dose of marketing vitamin will equip you to take your social media to an entirely new level. Find out more at SocialMediaExaminer.com/show
Social Media Social Hour Podcast with Tyler Anderson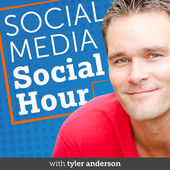 The Social Media Social Hour Podcast: Looking to get on the social media marketing fast track? Tyler Anderson, a social media entrepreneur, gets up close and personal with top brands and influencers each week to discuss social media marketing, online marketing, and content marketing tactics that work. Discover what is working and what is not working across social networks like Facebook, Twitter, Instagram, Pinterest, LinkedIn, Google+, YouTube, Snapchat, Periscope, Meerkat, Blab and more. Learn actionable content marketing strategies and tips to improve your social media marketing. Tyler Anderson is the founder of Casual Fridays, a social media marketing agency and co-founder of Scoreboard Social, a simplified social media reporting and competitive analytics tool. Tyler is also the host and organizer of Social Media Day San Diego.
Square Peg Round Hole Small Business Massive Action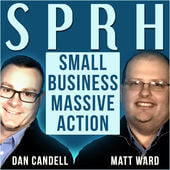 SPRH stands for Square Peg Round Hole. Most small business owners don't fit the standard mold of college, then working for a corporation. As such, they feel out of place….The "Square Peg" in the "Round Hole". SPRH is really about helping small business grow their business and take massive action, through learning from other small business owners, as well as industry related conferences and trade shows. There is no better alternative to learning that from your peers at these conferences!
Success 101 Podcast with Jarrod Warren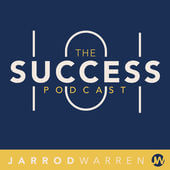 The Success 101 Podcast–My goal each episode is to bring you new concepts or ideas, to help you maximize your full potential, through habits, goals, sleep, mindset, nutrition, energy, peak performance strategies, systems and more.
Tribe of Entrepreneur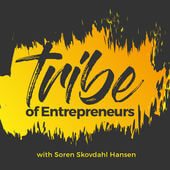 Hello and Welcome, fellow Tribe Of Entrepreneurs, Soren S Hansen here, I'm am you host on Tribe of Entrepreneurs where I chat with entrepreneurs who went from ordinary to extraordinary, sharing their journey from employment to entrepreneur, how they found their desire and idea, conquered fear and self-doubt, and how they stayed persistent and committed to launch and grow their business and live a more fulfilling life. What made them finally take action? How did they find their product? How did they start their business? What is the ONE thing we as aspiring entrepreneurs can do TODAY to get started? Is it worth it, the struggle and emotional roller coaster? Let's find out from today's guest.
Ziglar Show: Inspiring Your True Performance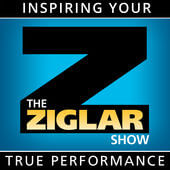 The Ziglar Show is for aspiring people. For those who truly want to make positive progress in their lives and succeed at their desired achievements. For those who do not want to settle! Every week we bring you today's most relevant and influential leaders in personal development and break down their messages so you can get massively inspired and take real action in your life. We keep out any offensive language and continue the legacy given to us by Zig Ziglar, of whom Seth Godin said on Tim Ferriss' show, "Zig is your grandfather, and my grandfather, he's Tony Robbins' grandfather – none of us would be here if it weren't for Zig."
Footnote: Check out this 
list from Entrepreneur

 for even more ideas.