Meet One of Our Certified Guests™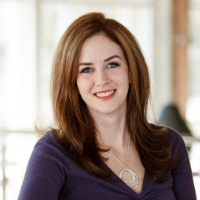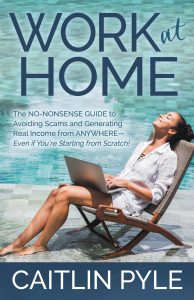 Empowering Others to Build a Life of Freedom by Working From Home
Caitlin Pyle graduated summa cum laude from the University of Central Florida, but
she'll be the first to tell you that was not the path to the freedom she now enjoys.
Although she's now a self-made millionaire entrepreneur (CEO, podcast host, online
training program creator, inspiring author), Caitlin had to get out of her own way first.
Back in 2011, Caitlin was burnt out and miserable, working at a job she hated, with an
80-minute commute that zapped the energy from her life. And then she was fired.
But that was just the beginning. After losing her job, Caitlin began designing online
training courses for proofreaders and editors, and she has since expanded her influence
to empower anyone to earn REAL money working at home. Today, through her virtual
training program, Work-At-Home School, Caitlin walks her students through the steps
of designing their work-at-home business. Yes, she knows it's hard to separate the good
from the bad when it comes to "work from home" opportunities, but she's done the
research to verify the experts and training modules featured within her Work-At-Home
School curriculum.
Caitlin is passionate about sharing her journey to empower others however she
can -- through her online training program, her forthcoming book Work at Home: The
No-Nonsense Guide to Avoiding Scams and Generating Real Income from ANYWHERE
-- Even if You're Starting from Scratch!, and her successful Facebook community, where
she inspires thousands of engaged entrepreneurs to design their dream lifestyle
businesses. Her work has been featured in Business Insider, Fast Company, foundr,
Forbes, and Mixergy. She lives with her husband Ben and their über-cute Swedish
Vallhund, Buffett, in Winter Park, Florida, in their dream home Caitlin designed herself
using just graph paper and a pencil... all while living in Argentina!
Caitlin Can Talk To Your Audience About:
How I built a freelance proofreading business to $45k/year part-time (and paid
off a 15-year mortgage 9 years early!)
The jaw-droppingly horrible way I got fired in 2011 - and how I bounced back
How I became a millionaire at age 30
5 big mistakes work-at-home newbies make
Work at home: how to avoid scams and generate income from anywhere, even if
you're starting from scratch
How viewing money as a limitless resource changes how you earn it
Ducks, buses, and staircases: three analogies to inspire lasting success