Forget Travel: A Virtual Book Tour is the New Norm for Authors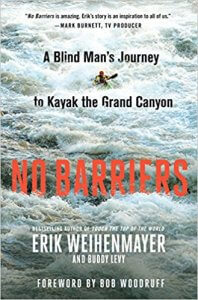 Traveling for a book tour can be inconvenient, expensive and out of the question for some authors. Getting featured on local newscasts can prove difficult if not impossible. As a former TV news producer for a morning show, I know that authors are at the whim of the executive producer or news director. Many newscasts have ditched morning interviews of authors. The quote I remember hearing was, "They're just trying to sell books. They can buy an ad like everyone else." With this kind of resistance, authors may want to consider a virtual book tour instead of traveling.
Erik Weihenmayer, the author of No Barriers, decided a virtual book tour was right up his alley for the release of his book. Rather than leave his wife and kids in Colorado to try and drum up interest in his story, visiting booksellers and reading events across the country or trying to schedule morning TV and radio interviews, Erik took on the role of a storyteller with podcasts through his virtual book tour.
What connects Erik's stories and adventures to listeners is how he shares the "why" behind it all. That's the idea of the No Barriers Life subject of the book. This is not a life without barriers, but rather a way of thinking and addressing challenges. Often people talk about overcoming barriers or obstacles, but for Erik the message is really how those challenges have harnessed a life of purpose. For example, he has not overcome blindness but he has harnessed the challenge and gone on to live a life that he probably would not have if he wasn't blind. These stories resonate with listeners of particular podcasts better than a broad, "here's hoping this works" approach of TV/radio interviews to a disengaged audience.
Podcasts vs other media
The beauty of a podcast is the niche audience it serves. For Erik, that could be an audience interested in living with what many would call a disability. It may include shows about mountain climbing or other adventure lifestyles. Erik's story will likely resonate with a specific niche audience much better than a broad, generic audience. This buzz will then transfer into major media outlets showing interest, with invitations for appearances on the national stage like the Today show.
Reaching an engaged, niche audience through podcast interview marketing and a virtual book tour can lead to great connections, higher conversions (sales!) and a successful book launch. For many authors, that beats traveling for a year trying to get in front of audiences in person or through local media.
What about social media?
Social media like Facebook, Twitter and Instagram is great for connecting with an audience. It's even helpful for finding a new audience through ads. However, simply posting a photo or tweeting your book most likely won't work. Telling your story to an interested h0st and their audience is a deeper connection to an audience than 140 characters.
Sharing your interview on social media is definitely paramount to the success of the launch; social media is one tool in your virtual book tour toolbox.
How do I start my virtual book tour?
Actually getting started on your virtual book tour is the key. As with any endeavor, planning is typically the beginning. Without a plan, it's just a dream. Plan your time, your budget if you have any and your networking. From there, it's time to choose your medium (or more than one) like podcasting and social media. Finding the right podcasts for the audience you want to reach is important. Where will your potential readers be? Is the show you need about business or sales? Or are you looking for single parents looking for biblical-based child-rearing advice?
Getting a podcast interview scheduled will involve research, networking and asking for interviews. You should prepare a pitch sheet for hosts and have a system in place to keep track of your interviews. You can also work with a podcast interview marketing agency to help with the logistics. However you do it, be sure to enjoy the book tour from the comfort of where you want to be – like your living room – rather than where you have to be.