There's a Right Way and a Wrong Way to Conduct a Digital Book Tour
Book promotion in the digital age: what do you do? As an author trying to "get the word out" about your work, Do you start with social media like Facebook and Twitter or do you roll out a blog? Or maybe you're thinking of launching a digital book tour. Of course, you'll want to plan the launch with precision and some creativity.
Planning for a digital book tour
First, as with any endeavor, planning is typically the beginning. Without a plan, it's just a dream. Planning for any kind of book tour will require you to consider the time it will take, any budget you may have and tapping into the network around you.
Time – How much time can you dedicate to your book promotion? If you can turn this into a full time career and you can devote 40 hours a week to your promotion, you may be well ahead of other authors. Many writers have other jobs as they launch their first book. This means book promotion takes a back seat to work, family, fun… if you can carve out the hours, the results will come.
Budget – Depending on the medium you use (the next point), you may need to plan for an advertising budget. From Facebook ads to commercials on YouTube, you have the opportunity to pay for an audience. If you can sink some cash into your book promotion, you may find some good results. Pro tip: Work with a designer to really make your ads stand out. An ad copy writer may also help, depending on your natural skill set as an author.
Networking – Whether it's social media or it's email marketing, a powerful, engaged network can supercharge your digital book tour. Ask (nicely) your network to share your book, to leave reviews on Amazon and other sellers and to help you spread the word. If your network includes power users of social media, plan to ask them to help with something like a Twitter chat or Facebook live. Your network can help amplify your message, reaching beyond your inner circle.
Choose a medium (or more) for promotion
After you've made your plan, it's time to think about where you want to "be" online. Do you need to be on every social media platform? Maybe… maybe not. First thing: test it. If you join Snapchat and you decide readers of your book aren't there, move on.
Secondly, don't let these platforms intimidate you. Learn a little about each one, decide if your audience may take part in conversations there, and dive in! Here are a few platforms to consider:
Facebook
This is where we tend to interact with family, friends and long-lost classmates (Seriously, we went to high school together? Are you sure?). Images, authentic posts and Facebook live video all work well to reach people. Don't tag random people unless you ask first. Simply tagging 100 people in an image or post to try to amplify your message will generally upset those tagged.
One place you can expand your audience beyond those on your friend list is to create a page for your book so you can take advantage of Facebook ads. Ads help you hone in on specific demographics and behaviors that may clue you into a potential buyer of your book.
Twitter
It's an ongoing conversation with hashtags and GIFs. Connecting with other writers, voracious readers and potential buyers can help you expand that network, amplifying your reach. Find existing hashtags that relate to your book (is it true crime? mystery? business?) to join conversations. Include a link to your book in your profile so anyone discovering you can buy it.
The key is to actually spend time on Twitter. You can't just open an account and hope for the best. Maybe you tweet a line from your book every hour until a full chapter has been tweeted. You can schedule tweets with software like MeetEdgar and HootSuite.
Instagram
This one is all visual and skews a bit younger. Facebook owns Instagram, so advertising is very similar and it's actually connected to your Facebook account. Other ideas besides ads could include showing your book in different stores, with different covers or using lines from your book as Instagram visual quotes. Like Twitter, Instagram uses hashtags. Search through hashtags for conversations related to your book and join the conversation. Pro tip: Don't make it all about you or your book. Treat social media conversations like real life conversations – work it in when appropriate.
YouTube
The video behemoth, Google owns YouTube. You'll find things like search engine optimization (SEO) can pay off with your book, if planned correctly. It's also a bit like TV – find YouTube "shows" that interview authors. Create your own video, sharing stories/reviews.
You can use simple technology like a mobile phone to record simple videos and upload them to YouTube, or you can hire a freelancer to fully produce higher quality videos complete with graphics if you'd like. Branch out beyond the 30-second ad about your book that you may be tempted to do. Tell stories.
Blogging
Writing about your book – or writing your actual book out in blog format, can help launch your digital book tour. Many authors take their existing blog and turn it into a book, or take a finished book and turn it into a blog. Either way, your online audience will help you sell more books as you build up a readership. You can also blog about the writing process to develop a deeper connection with your readers.
Another way to use blogs is to guest blog on other sites that relate to your book or subject. Make sure that byline includes "author of [your book]."
Podcasts
Podcast interview marketing reaches targeted audiences engaged with trusted podcast hosts. Most of these hosts spend years cultivating that trust and those numbers. They have the audience – you have the story. It's a natural fit.
If your book is about business, find podcasts entrepreneurs listen to. Family? Faith? Fitness? Those podcasts exist. Mystery/thriller/true crime author? Yes, those exist as well. Becoming a sought-after author on the podcast circuit is one of the best ways to reach a new audience that's engaged and ready to buy. In fact, according to our research, website visitors from podcasts convert at a much higher rate than organic traffic, ads and social media. Rather than write more about your writing or trying to come up with a viral GIF for Facebook, simply telling your story to an audience with a great host might be the easiest way to promote your book!
Prepare for your moment
Finally, before you launch your digital book tour… it's important to prepare for the big moment. Maybe it's your favorite podcast. Possibly a TV show will call because of the buzz you've built. Perhaps a new YouTube sensation interviews you. Whatever the stage, it's all about seeing your opportunity as a media appearance. Keep in mind: the internet doesn't forget. Poor preparation will come across as a sloppy interview. You want to prepare for your moment so every moment could be the big break.
Interviews – Showing up knowing the host, the show and the audience will prove your prowess as an author and guest. Preparation is key. There's nothing more embarrassing showing up on stage to say "Hello Cincinnati!" when you're in Cleveland…
Know your story – This is your story – who knows it better? However, even you can get a little to close to the tree to see the forest. Asking for help from peers or friends can help you ensure you're telling the engaging story, not just the synopsis of the book.
Expect the unexpected – Even when you have the questions ahead of time, an interviewer may throw you a curve ball. Go into your digital book tour and interviews with enough preparation that the "usual" questions roll off your tongue without sounding rehearsed, so that any surprises get the brain power they need. Really listen to the interviewer and engage in conversation with them – it will make for a great interview.
When it's time to launch your digital book tour and get on podcasts, download the 9 secrets to booking your first podcast below. Good luck!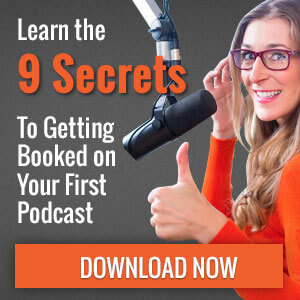 image source: books