How Podcasts Help Authors with Book Promotion
In an age of constant advertising and promotional noise – from digital billboards distracting us to a constant stream of social media to ads everywhere we consume media – how is an author supposed to "get noticed"? It's a frustration many newly-published and self-published authors face. But book promotion doesn't have to drive you insane. In fact, a relatively new medium just might be perfect for promoting your book: podcasts.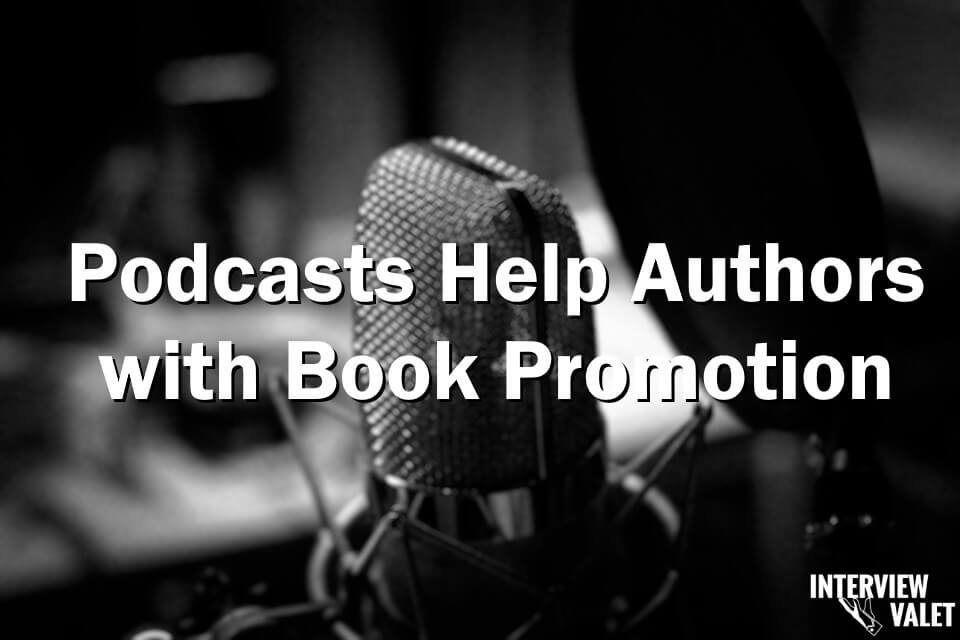 Podcasts can expose an author to a greater audience than they naturally have, boosting book sales, increasing personal brand awareness and leading to more interviews. Of course, creating one's own podcast is where many people start when thinking about using podcasts for marketing. However, if you consider how much work that entails, podcast interview marketing (being a guest on other peoples' podcasts) may be more enticing.
Let's look at how podcasts can help with book promotion:
Media Appearances
Each podcast interview is like a stop on a virtual book promotion tour. In days gone by (and still today in some markets), authors would make the rounds on local media like morning TV news and morning radio, building up to regional and hopefully national media appearances. Of course, the dream was to have someone like Oprah or Good Morning America invite you on to talk about your book.
In today's fragmented media landscape, podcasts that reach a niche audience deeply engaged with their podcast host can bring tremendous value to an author's book promotion. Podcast genres can include subjects like entrepreneurship, marketing, women in business, chiropractic practices, urban farming, professional magicians and so much more.
Each podcast interview is a media appearance that builds the momentum for great book promotion for authors.
Website Traffic
Every interview an author conducts ought to include a mention of the website where listeners can buy the book. The host will also include this in their show notes. This website traffic is meant to convert to readers buying your book; it's also great for building the search engine optimization (SEO) value of your website.
We all go to Google for nearly everything in today's marketplace. Whatever your book is about, you should rank for in search engines. You'll also do well to rank for your own name/brand. Relevant website traffic will help with this, as do the links you receive in those show notes. The SEO ecosystem will benefit you as you grow your website traffic through podcast interviews.
The Sales Funnel
When sending listeners back to your website, directing them to a landing page-like site page is very helpful in filling up your marketing funnel. You can offer a free chapter, other materials, or a newsletter sign up for your visitors, getting them to opt into your lists.
Many authors may not think about the marketing and sales funnel – that's my job as a marketer – but it should be part of your strategy. We don't always simply buy a book without knowing something more about it. In other words, we often judge a book by its cover. However, offering a free chapter or other assets can help. Or if your book happens to be instructional for a specific group, it can help to show that free chapter or maybe a video message to show that your book has great value.
Moving potential readers through a funnel from passive listeners to raving fans is important for any author.
Networking
Podcasts hosts can often be a great source of networking, leading to other podcast interviews for your book promotion plans. Making interview connections with other podcast hosts through interviews can help build your reputation. In fact, many podcast hosts know other hosts. Whether it's through live events where they meet for dinner and drinks, or it's through professional groups, podcast hosts seem to know each other; most of them also love to see their friends succeed. 
The podcast world is a small, tight-knit community. If you're making a good impression, you're building a reputation. Making those first connections is important. Here are a few examples of making great interview connections in your network can lead to more interviews, helping you to meet those business goals.
Social Media Promotion
Building your social media network helps to sell your book and to develop relationships with fans of your work. Getting on podcasts for book promotion will bring new social media connections to you as the host shares the episode, as you share it and as that greater audience shares it.
Your brand in social media grows as the content you help hosts create gains traction and reaches a new audience. This will help you sell books and find new raving fans for your work!
When It's Time To Start Your Book Promotion
If you're thinking it's time to start a book promotion plan with podcasts, you may want to start with our 9 Secrets to Getting Booked on Your First Podcast. It's a quick download meant to help you get started. You can also read 10 Mistakes to Avoid if You Want to Get Featured on Podcasts for a few tips. Good luck and happy podcasting!
image source: microphone