What is the State of Podcast Interviews?
What exactly is the state of podcast interviews right now? In a word: positive. Many podcasts interview guests, a lot of niche podcasts exist and the growth of new shows continues today. The ecosystem and culture surrounding podcasts is one of collaboration, growth and excitement. In a survey sponsored by Interview Valet, more than 10,000 people had the opportunity to weigh in on the state of the industry.
Show me the data
Among the questions asked, we wanted to know how podcast hosts react to pitches. With virtual assistant companies, simple booking services and PR firms pitching hosts, it's become a noisy landscape. We wondered: Do hosts say yes to pitches? Do download numbers matter? The answers: YES!

Podcast Pitching
According to Podcast Movement, the majority of the average podcast gets fewer than 1,000 downloads. In a niche, these 1,000 downloads can be a very powerful, engaged audience. It also means that this 50% statistic from the State of Podcast Interviews report is relevant to the majority of podcasts. If you have a story to tell and a message to promote, your chances of connecting with a relevant podcast are pretty good.
This nugget of knowledge also tells us that having a relationship with the host or the producer helps break through the noise. Warm introductions, past conversations and an ongoing relationship help hosts say yes to guest requests.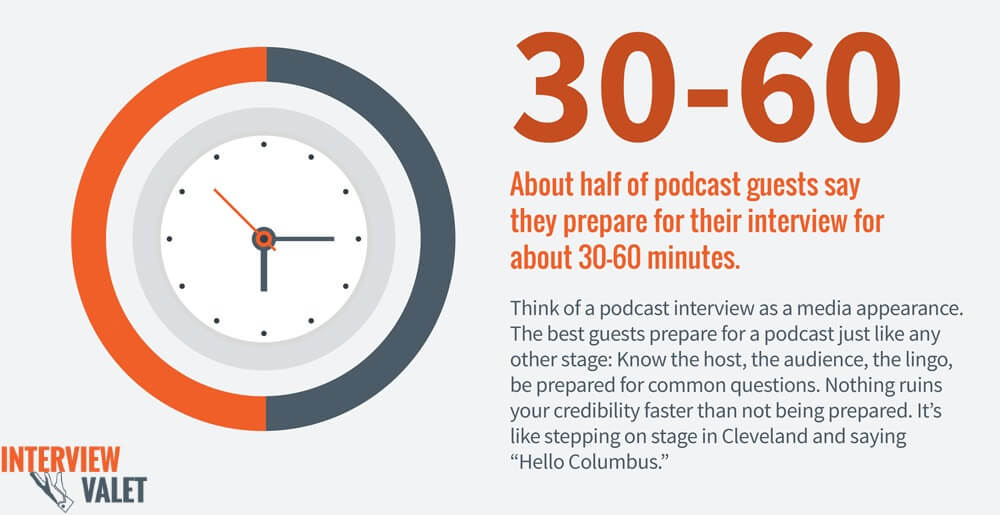 Podcast Interview Preparation
Podcast interview preparation is not just helpful, it's vital to the success of the interview. When you think of an interview as a media appearance, as a performance, you see the value of preparation.
Podcast interview guests: Get to know the show, the host, their audience and their lingo. Knowing the "usual" questions will help ensure you're not looking foolish and the host sounds good to the audience. Make that host look good, and they'll do the same for you. Tools like a show brief sheet and show flow document help. Listen to the show and communicate with the host. Show prep is important – and it's happening in the industry. About half of podcast guests say they prep for about 30-60 minutes before an interview.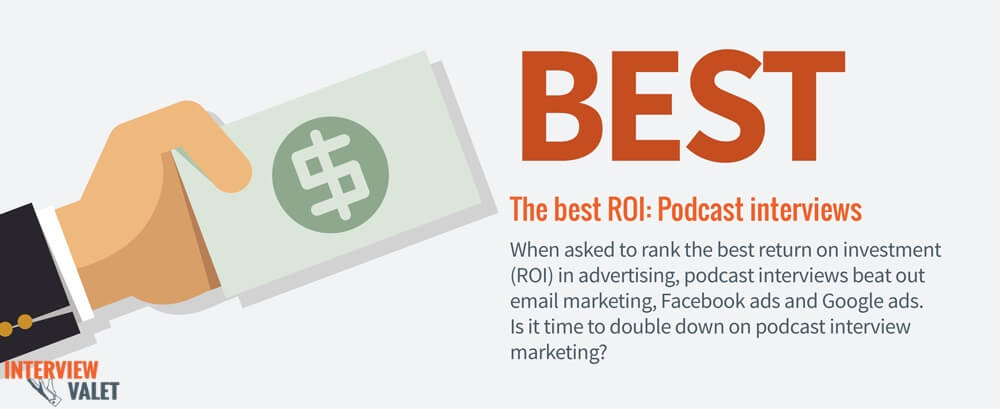 Advertising/Marketing ROI
How does a business break through the noise in 2017? According to podcasters, getting interviewed on podcasts offers the best return on investment for their marketing dollars. Podcast interview marketing beats out email, Facebook and Google ads. If you host interviews, you're in for a good year of guests looking to reach a new audience – your audience! If you're an inspiring thought leader, consider podcast interviews – those in the industry believe so firmly in the practice, they're following their own advice!
Learn more about the state of the industry with the 2017 State of Podcast Interviews Report. You can download yours below. You can also visit the SOPI hub of information here for more content like an infographic, deeper articles and more.