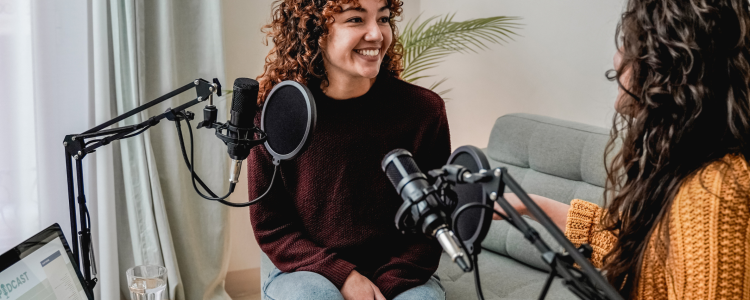 Master the art of podcast interviews with 11 essential tips. Prepare, engage, promote, and build relationships for a successful and impactful guest appearance.
Around 144 million people in the United States listen to podcasts every month.
That's a lot of people.
To put it into perspective, 144 million people could fill Michigan Stadium—the largest football stadium in the nation—over 1,300 times.
Now, imagine you are standing in front of over 1,300 packed stadiums of people and you haven't rehearsed what you're going to say. The night before your big event you say, "I'll just wing it and go with the flow."
Then suddenly, you're standing at the podium and 144 million pairs of eyes are on you. The "flow" is no longer clear. You hem and haw your way through the big presentation.
While it's true that the day of a podcast interview is just between you and the host, over time, your interview will be heard by hundreds, thousands, and potentially millions of people. It is exactly like giving a presentation on a stage, which is something you don't want to "wing."
Prepare like you would for a job interview. 
You have an idea of the questions you'll be asked, but not entirely.
While podcast interviews are not a rapid fire Q&A session or quiz, you should still prepare the flow of the message you intend to share. Just like you prepare for a job interview, you don't know exactly what will be asked, but you also want to have some points prepared so you can make an impact and have an interview that you are proud of.
It would be devastating to show up for the interview and call the host the wrong name or misstate the name of the show. Or, even worse, talk about a topic that is completely irrelevant for the listeners.
At Interview Valet, our clients have claimed more than 37,000 hours of podcast airtime over the last nine years, and we've learned a few things.
Here's 11 tips for success you need to know before before you show up for that first interview:
1. Give the host everything they need ahead of time.
Preparing a "one sheet" detailing your experience, mission, introduction, and topics of expertise makes it easy for the host to ideate about topics that will fall in your area of genius while also keeping it applicable for their audience. Having all of this on one sheet and giving it to the host is a surefire way to make the host's life easier and consequently have a great interview. Check out how to make an out-of-this-world one sheet here.
2. Nail the logistics from day one. 
A check list goes a long way! A big part of having a successful interview is about the minor logistics that often go overlooked. Creating a checklist of what you need to do from the time you receive the calendar invite all the way up until your host hits record will free up your headspace for the important parts of the interview while also making sure it goes off without a hitch. Here's the checklist we give our Certified Guests.
3. Know your story and message.
The week before, prepare like you would if you were giving a presentation on a physical stage but remain flexible. A podcast is a conversation, not a monologue. You want to be able to talk about what you do and why you do it in an elevator-pitch style—intentional and to the point. You run your business every day and know it inside and out, but sometimes it becomes harder to articulate the bigger picture to a fresh audience. Review it and make it essential while preparing.
4. Have the right equipment.
Sound like the professional you are. If listeners can't hear you or your audio is scratchy, it leaves the wrong impression, especially when you are paired against the host who likely has a professional setup. Audiences will be able to tell the difference. Remember, when you guest on a podcast, you have limited time to make the right impression. Having the right equipment will ensure the listener takeaway is your expertise and message, not the lackluster audio quality.
5. Know the show
It's beyond embarrassing if you call the host the wrong name or fumble on the show name. Do your research ahead of time and listen to a couple episodes. Do they have a nickname for their listeners? Do they always ask the same questions at the beginning of the show or have a fun, rapid-fire question session at the end? Podcast hosts can tell almost immediately if you've never listened to their show prior to your interview.
6. Prepare a podcast interview welcome page. 
A non-indexed page on your site customized for the podcast audience is a great way to meet them where they are. If someone listens to you for 30+ minutes on a podcast, they have already opted into your message in some capacity. This unique link to your site will give them everything they need to become a lead or customer. Check out how to make a podcast interview welcome page here.
7. Don't forget to promote!
When the mics turn off and the podcast finishes, your work isn't over. It's just beginning. Part of your role as the guest is to help promote the podcast. It's an easy way to support the host and foster a working relationship with them. Their success is your success and vice versa. Promotion isn't a one-way street. It's the responsibility of the host and the guest to promote the show. If you need some inspiration, this guide has loads of creative ways to promote your show.
8. Leverage all your tools.
Don't forget about the hottest new tool available right now that will make the show go smoothly: AI. Tools like ChatGPT can help you with every step of the process. It can write the first draft of your one sheet, help you brainstorm topics for the show, and research possible shows. While its content won't be perfect, it will give you a great rough draft to jump start your preparation.
9. Know your goals and get results.
Know the right data and systems that will help you reach the results you want. Be clear about what you want to get out of appearing on the show but be flexible to reap unexpected outcomes as well. When you are aware of the data and systems that define your success, it will be easier to understand how each interview impacts you.
10. Don't skimp on your calls to action
While it is a conversation, not a sales pitch, your goal is still likely to gain quality leads and customers. So you want to have a call to action (CTA). Digital marketing says that you should only offer one CTA, but our data has shown that three CTAs work best in podcast guesting, allowing you to meet your listeners where they are on their journey. We call them the small, medium, and large CTAs. A small, free offer is a small guide or questionnaire. Your medium is low cost, or it's free but is a time investment for the lead like a book. Your large, or CHECK YES as we call it, is the lead that comes with check in hand. A free consultation call is a great offer here.
11. Relationships make sales, not sales pitches.
At the end of the day, the day of your interview is the beginning of a new relationship. Nurturing that relationship with the host and audience has an infinite return on investment. Remember, the podcast isn't all about you. It's a team effort. See how you can support the host. Relationships are a two-way street of give and take. When you take the focus off yourself, the podcast interview is no longer a performance but an authentic, grounded conversation, like talking to an old friend at the kitchen table who's really invested in learning more about you.
Looking For More?
Here are some other great resources.